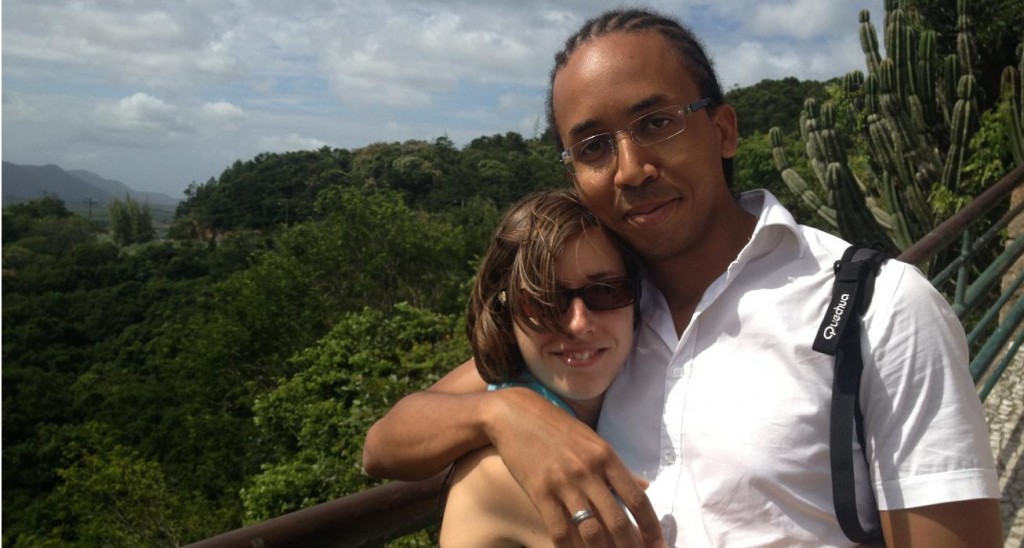 The Journey in Brazil goes on !
Balneario Camboriu:  A Brazilian version of « La Baule »
Here's a new week in the sun! Last Monday, we flew to Balneario Camboriu, a beach resort city south of Rio.
Extreme sports (or at least original sports) and relaxing were part of the program!
For practical purposes, the English version of this blog is Google Translated. If there's anything weird in the text, it's probably either because of that, or you know, 'cause we are actually a little weird !
We stayed at Erico's place ; he's a friend Sébastien meets regularly at seminars in the United States. He welcomed us into his luxurious apartment overlooking the sea, where he's been living with his wife and son for a year.
Camboriu is very much like « La Baule » (our hometown) with many degrees and the sun all year round! The beach is huge and surrounded by tall buildings. The population is older and grouse because they are mostly retirees and vacationers second home.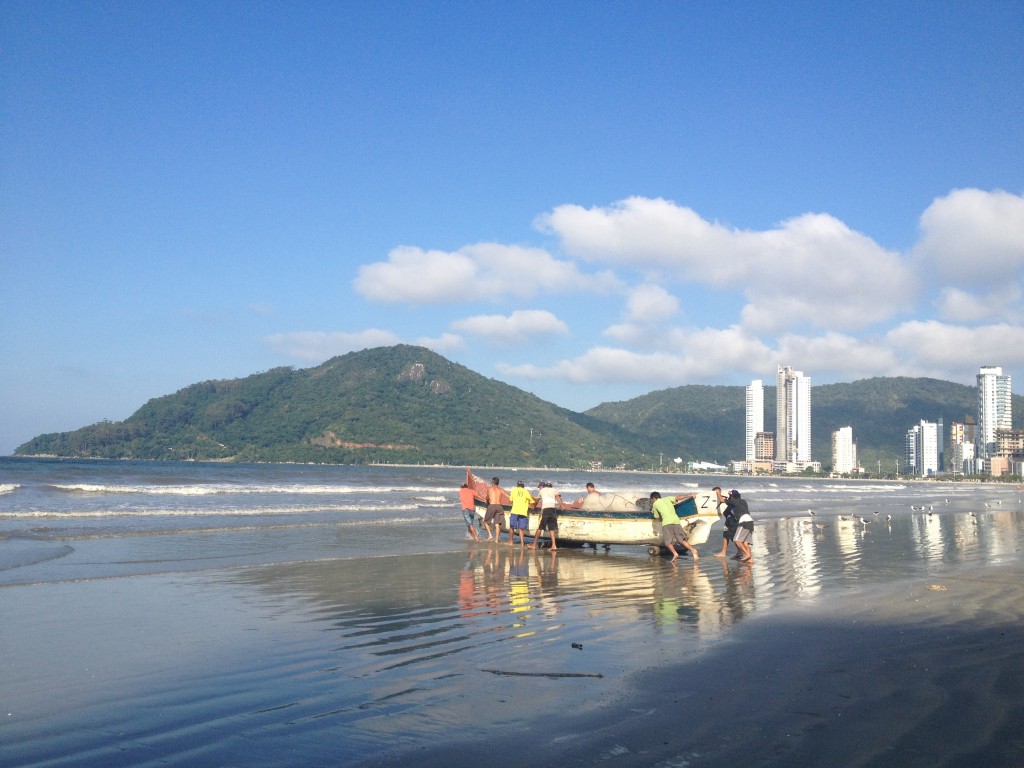 Bay Camboriu
L'auberge espagnole
We found Olivier and Aurélie at Erico's. So we were 7 people sharing the place. When we are together, we communicate in English. But as soon as possible, each returns to his native language, French or Portuguese.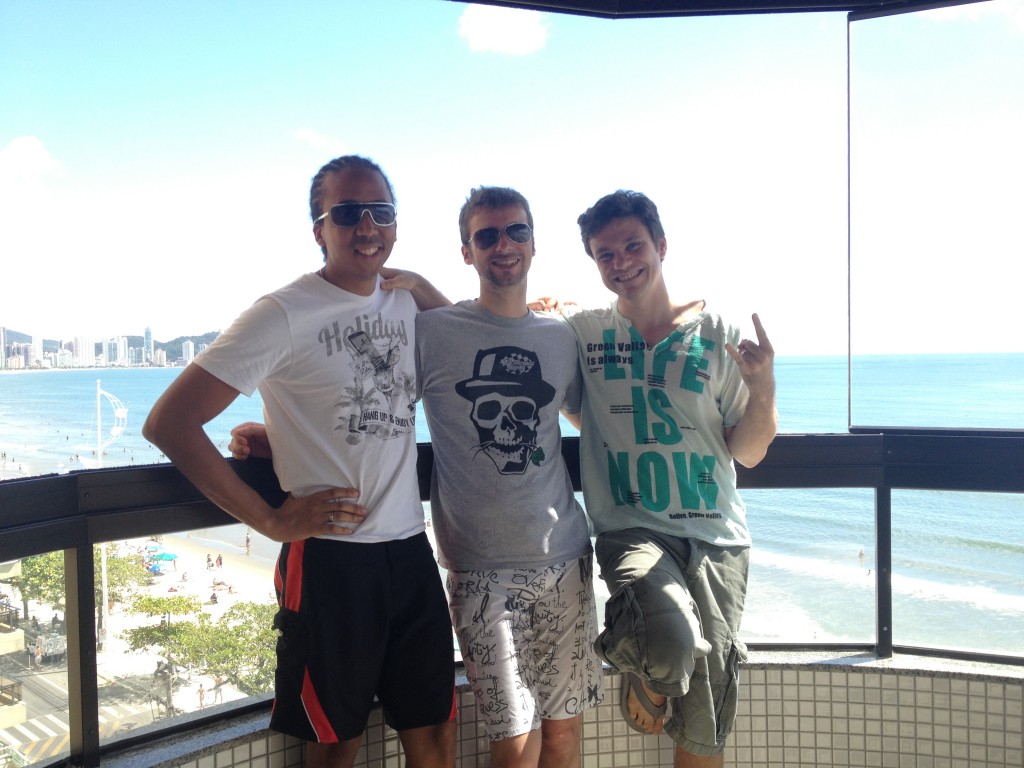 Champions of marketing … and surfing!
For my part, this is a good opportunity to practice my English. I understand quite well and I can express myself, not without some effort and a lot of mistakes that nobody dares correct (there was too much work!).
Our evenings are enlivened by a card game called Difito where everyone is bluffing to try to win. This is an opportunity to count in Portuguese, English, French and even Creole!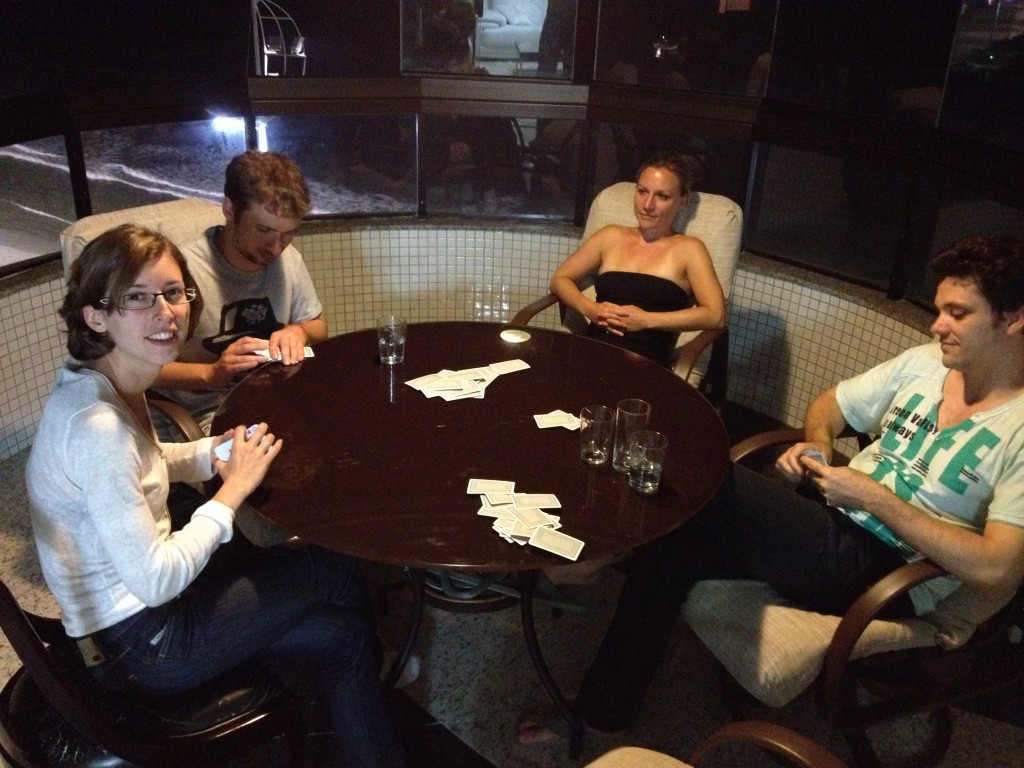 A championship card where everyone was entitled to their winning title
Our discussions are often peppered with questions of original Erico, and the famous caipirinhas.
Olivier played us a few songs on guitar and Erico was accompanied on the harmonica. It may also put you there. To be continued …
The kitchen is equally cosmopolitan. We found a very good cake corn and banana bread. We never get tired of juicy mangoes and papayas very fragrant. Erico and Juliana have prepared dishes and Turkish Jews they found in London, mixing mango and eggplant, chicken and sweet spices …
(Sébastien has already placed orders for their cookbook – that we receive on our return!)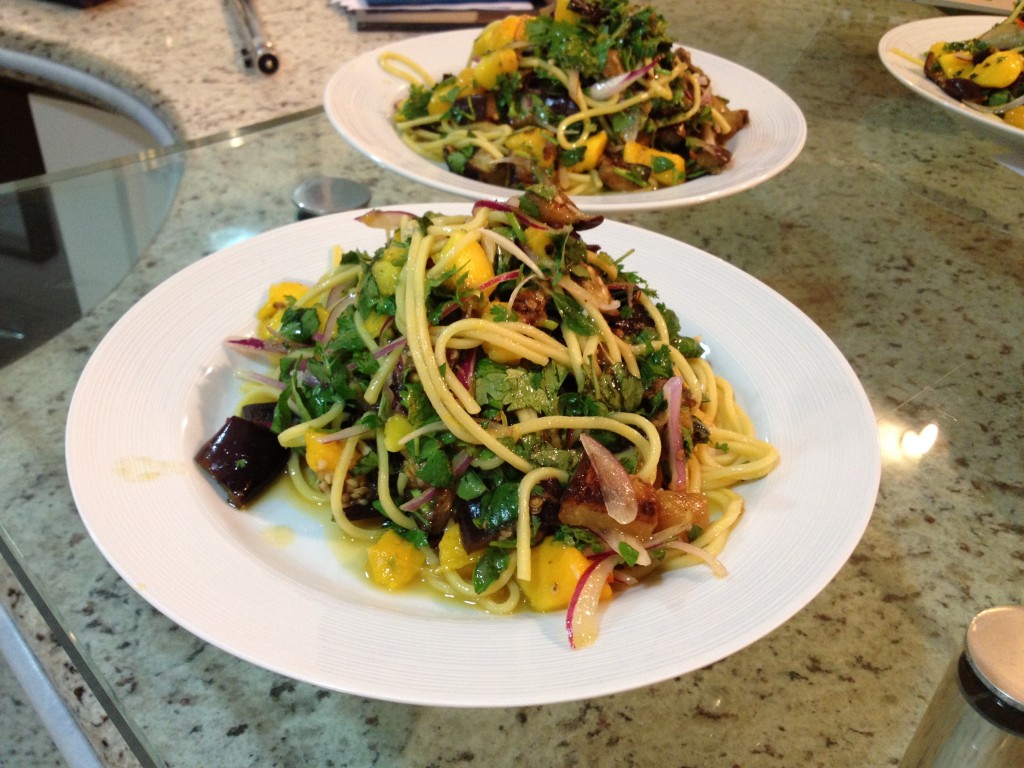 A dish whose origins and flavors have been around the world
Sebastian cooked dishes Guadeloupe: christophines stuffed chicken and Colombo! Regarding French dishes, it gets complicated when shopping. With Aurélie, we ended up having to find the equivalent of butter, cream or Gruyere. Not easy when the presentation, packaging, consistency and name are different.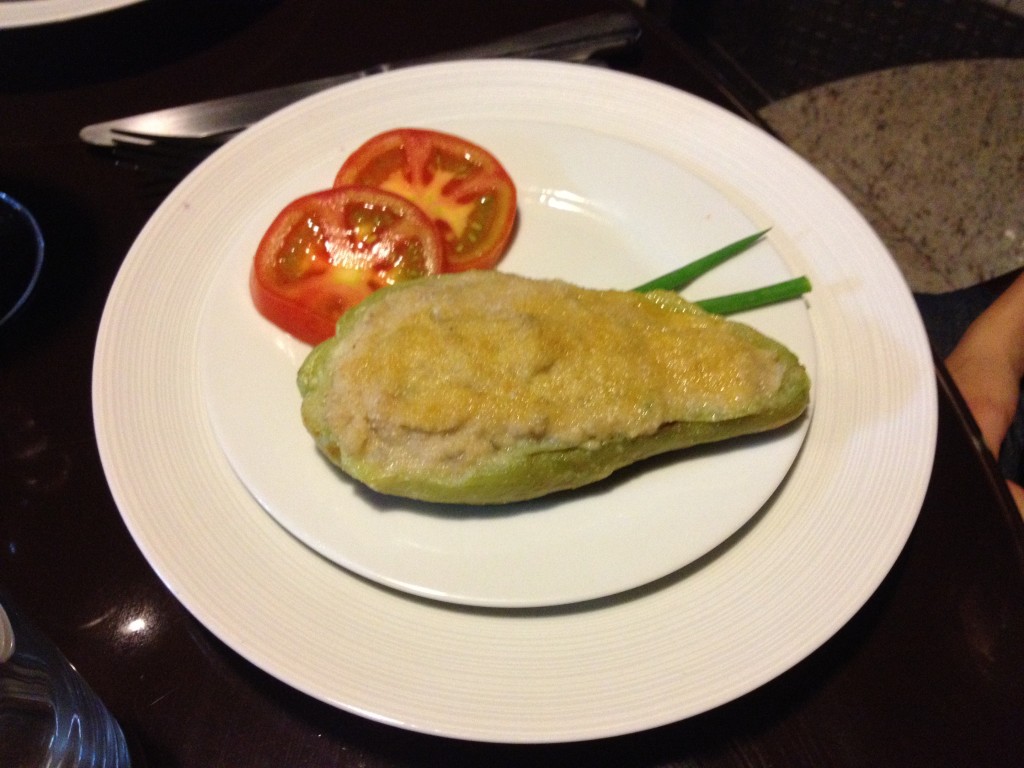 The christophine stuffed (in Brazil: « chuchu »)
Florianopolis or sandstorm
At 1 hour north of Camboriu, is the beautiful peninsula of Florianopolis. We rented a car for the day and we went to visit with Aurélie and Olivier.
First stop in Santo Antonio da Lisboa, a small village of fishermen and oyster farmers. That we changed tall buildings and Rio Camboriu! Then, towards the beaches of Joaquina and Mole, very famous for surfing. The sea was very rough and we whipped the legs (but that was nothing compared to what we expected).
We then went to the sand dunes of the island, to make « sandboard », a new winter sport that Sebastian had added to its list of « to experience » without really believing at the time.
The girls rented sleds, snowboards boys (certainly more « class » but also much more difficult to take in hand). From our first steps on the dune, the sand came stick to our bodies smeared sunscreen. I did my first slide. Yououh! Super! I am happy even if, on arrival, I found myself in the air and skirt covered with sand. Meanwhile, Sebastian made his first attempt, in slow motion, one meter, two meters … and fall. I suggest not to film his exploits at the end of the hour.
And for an hour we struggled against the elements. After each slide, it was up against the wind more violent. Sand whipped us and returned wherever he could. Sand in the hair Sébastien gave me a vision of him in 30 years, when it is gray!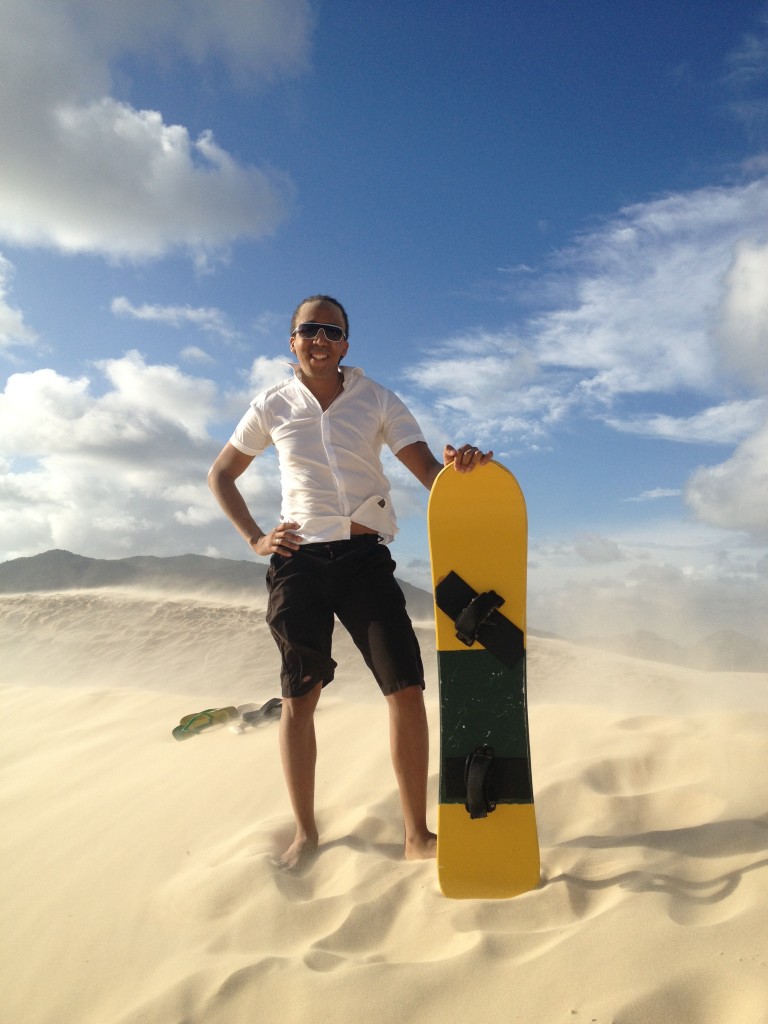 The king of the slide!
After a moment, Aurélie and I stopped fighting with our skirt. After all, Brazilian fashion is not she reveal her ass on the beach?
It is this sandstorm that we retain more than our exploits sandboard!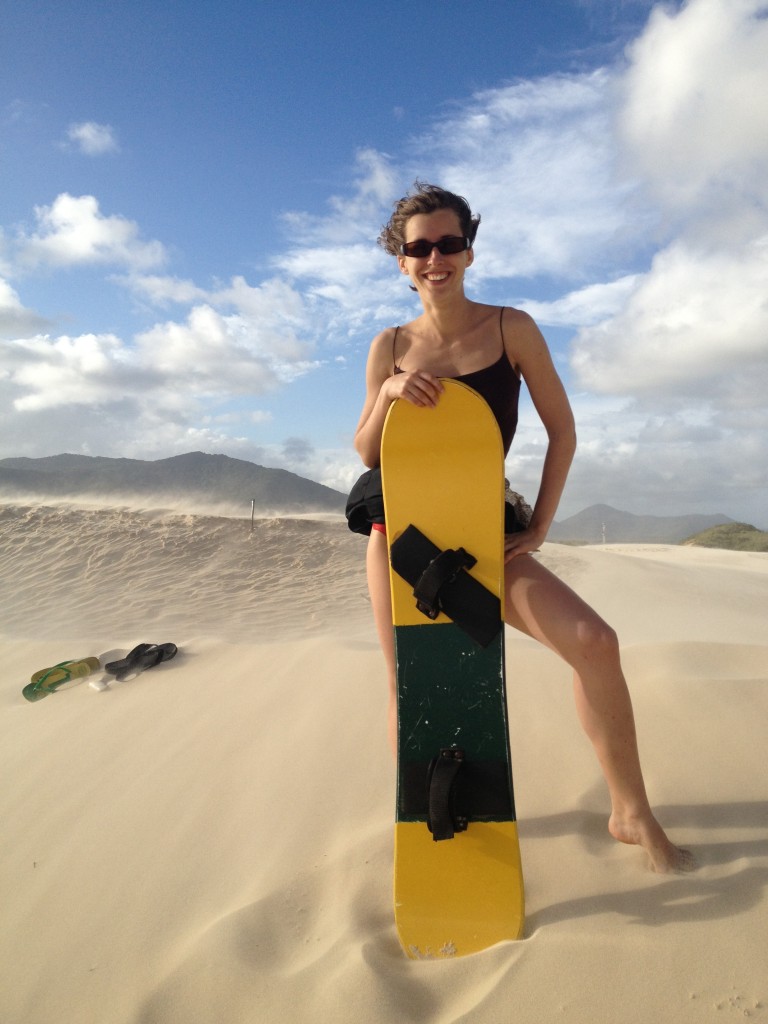 Yes, the month of February is for the sports … but why bother with gloves and après-ski?
After shaking, crying and all that could spit of sand, we found the village of Ilha da Ribiera very peaceful. The houses were all colored, the sun was setting behind a mountain, the wind blew over. We ended our day in a very romantic restaurant at the water's edge.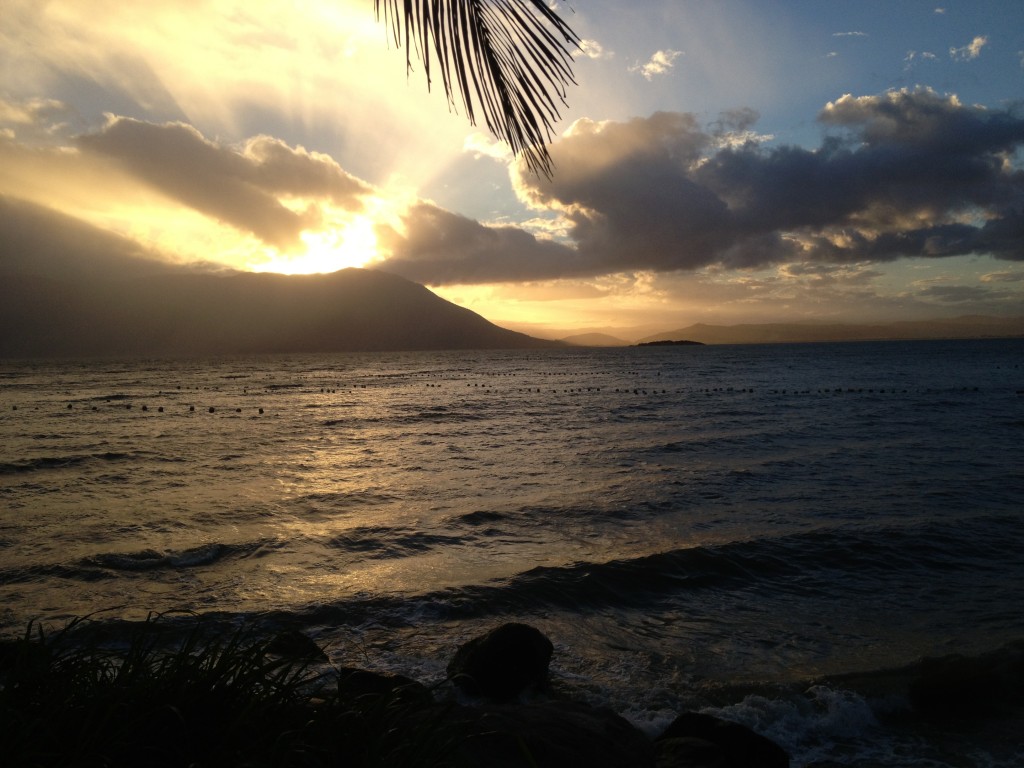 A beautiful sunset on the peninsula Florianopolis
The flop pirates
Intrigued by the pirate ships one sees every day in the Bay Camboriu was eventually tempted by the tour. The only company of tourists on the boat and stop in a small crowded beach and restaurants will not let us a great memory. Since then, we promised to avoid such attractions.
First surfing lesson!
He is 18h. The sun is about to set. Sebastian has just finished his day's work. Erico we reach the beach. For starters, it explains how to set up on the surfboard. Then we launch into the water. Waves are ideal for beginners and the water is good. At the second attempt, I managed to get on the board and keep me in balance! Unfortunately, it was not like that every time. Sébastien has also managed to ride his first wave.
(He even achieved its goal of dancing on the surfboard the first day – his way!)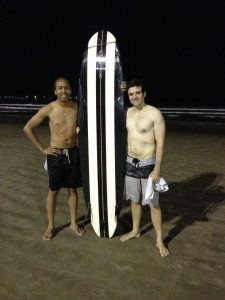 Nothing like a surfing session after a good day's work! (Provided you have a good teacher!)
We loved this experience on the waves. The next time it will be in Australia!
Now, we start north of Brazil, in the heart of the Amazon rainforest. Change of scenery guaranteed!