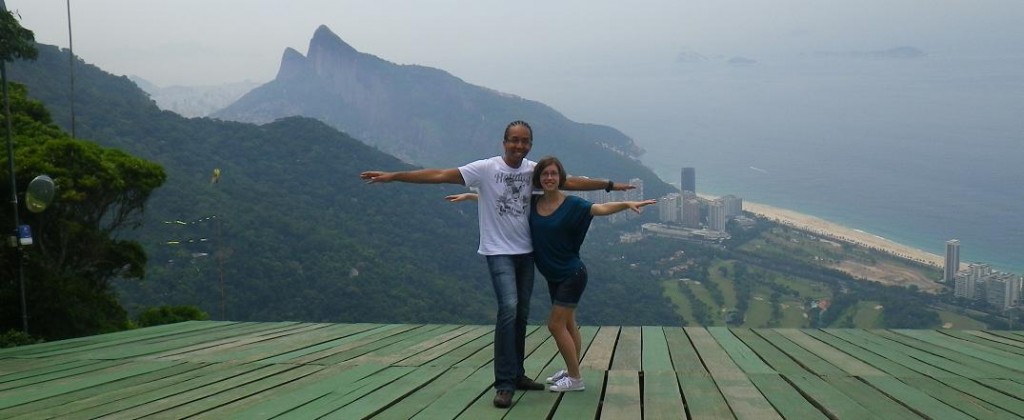 Rio de Janeiro, the first stage of our Tour around the World!
Bom dia!
It has now been 14 days since we left the cold and gray Pornichet to embark on our new adventure: A Trip Around the World!
Pornichet and seems far away now !
The Heat, sun, samba, caipirinhas very quickly put us in the holiday mood.
For our first step, so we flew to Brazil! We just spent 10 fantastic days in the beautiful city of Rio de Janeiro!For practical purposes, the English version of this blog is Google Translated. If there's anything weird in the text, it's probably either because of that, or you know, 'cause we are actually a little weird !
On the way to Rio …
February 7, after a 12 hour flight, we landed in Rio. Backpacking, we went in search of our hotel. And then what would become our number one concern began: the language barrier. After trying both English and Spanish, Sébastien unsuccessfully tried his first sentences in Portuguese, accompanied by body language, which proved very useful!
The bus driver seemed to have understood our destination. Halfway through, he beckons us down and leave us alone, in the middle of an intersection, surrounded by cars. Well, we just had to search for our hotel in streets that seemed disreputable. Who knows what could happen ? We we arriving with lots of warnings of our loved ones. But it is with relief and enthusiasm that we discovered our new « home », a nice hotel in a busy street and a room far from ordinary!
For the record, in Brazil, it is common for young couples who do not yet have their own home, to go to motels. And it turns out that our hotel was a former motel (which seemed to have a few regulars, not necessarily young btw). This explains why our « suite » was lined with mirrors from walls to ceiling, plus a hot tub and sauna for good measure!
The tour of the beaches of Rio
Once installed, our first discovery was the famous Copacabana beach. Yes, we had only one desire: to swim! Since we arrived, the sun did not quit and temperatures approach still around 30 and 35 ° C.
We essentially moved underground – it serves the center of Rio and its beaches.
Copacabana beach is lined with tall buildings. At the right is one of the many hills of Rio and facing the islands. The sea is rough but safe. The temperature of the water is cooler than the air, a little more than 20 °.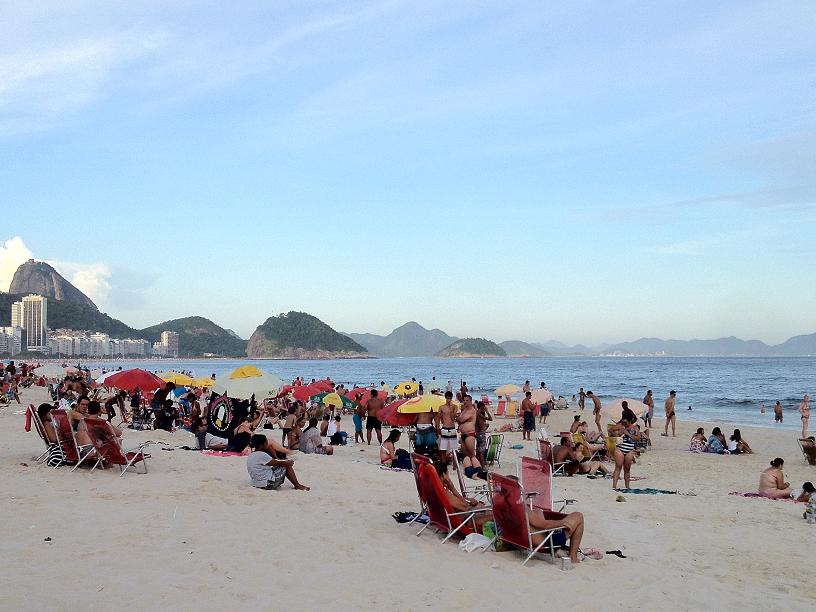 Copacabana beach
Most people rent umbrellas and folding chairs, where they challenge the many vendors that circulate to buy them drinks, sandwiches, swimsuits … The women wear thongs but certainly not reveal their breasts! Both women and men show their bodies without complex, whether muscular or fleshy.
The most shocking thing for beach lovers we are: Brazilians leave the beach leaving all their waste on site. To our surprise, the water is still clean except for Flamengo and Botafogo where the sea is very polluted, especially by boat.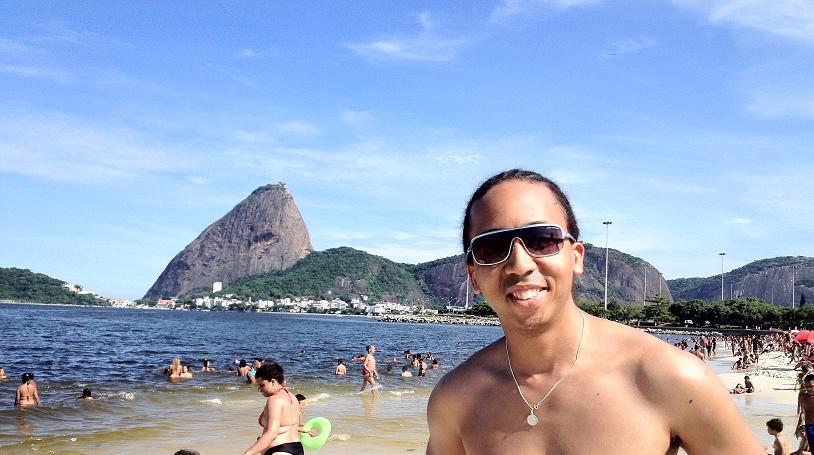 We took advantage of the beach throughout our stay. But this is the first carnival that made us vibrate! On Saturday, we met our friends Olivier and Aurélie: Sambodrome direction!
The legendary Rio Carnival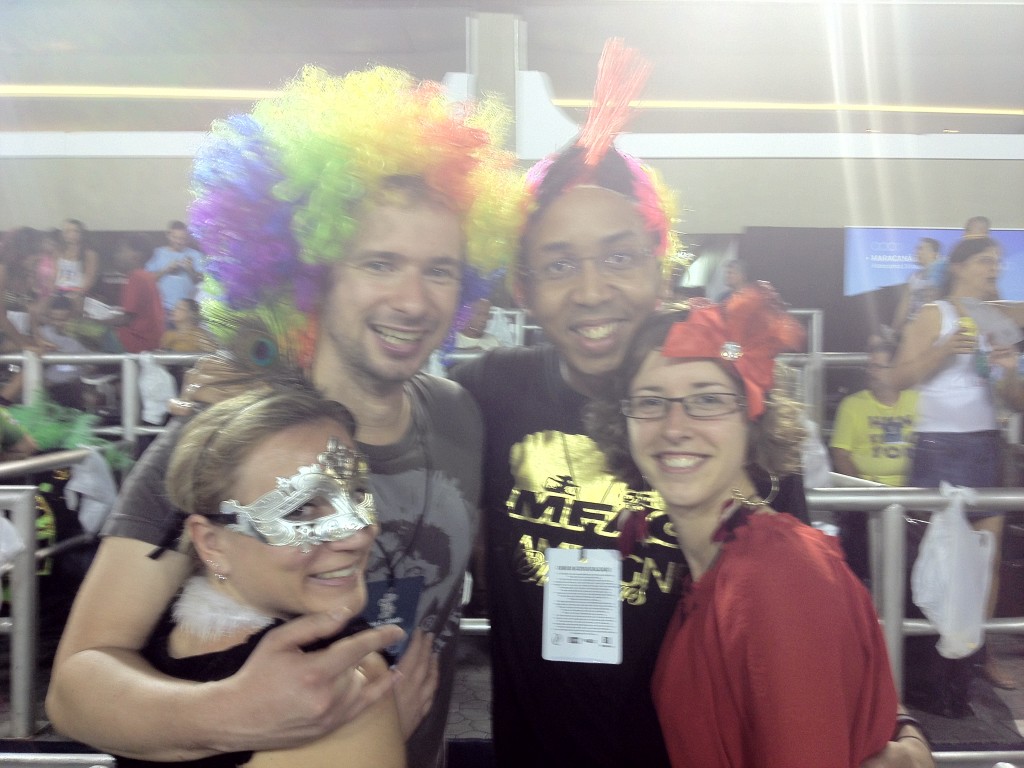 In the middle of the atmosphere of the Rio Carnival!
Each side of the avenue Marques de Sapucai, bleachers were installed to form a huge stadium while length. For several nights in a row, many groups parade on the avenue. We were in the front row!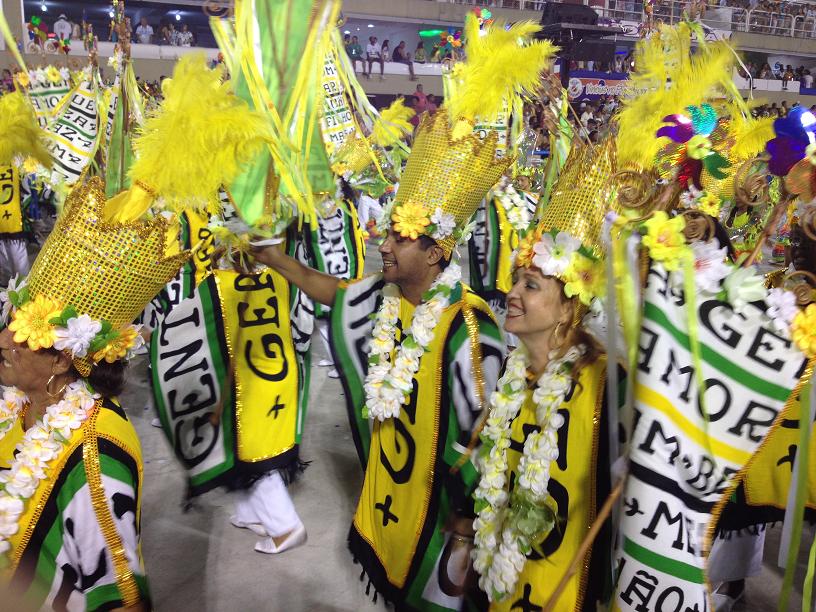 22h at 6am, we vibrated to the rhythm of the hymns of each show. Each group has exactly 50 minutes to get through this avenue. Each time, there are hundreds of people who marched at least thirty different costumes, four tanks, a band and a choir of singers …. for EACH group. It took eyeful!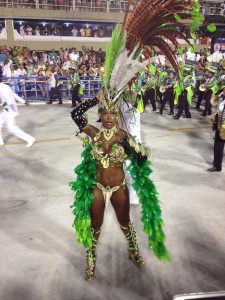 Obviously, the Carnival of Rio would not be without its Rio Carnival Samba dancers!
In parallel with these parades during blocos, Brazilians are found in different parts of the city for almost a week, to scroll through the street, dancing, booze … Everyone has his disguise or at least an accessory extravagant!
We got ours through the pellet Aurélie, who asked one of the dancers Sambodrome if we could take pictures with his costume … he totally donated costume!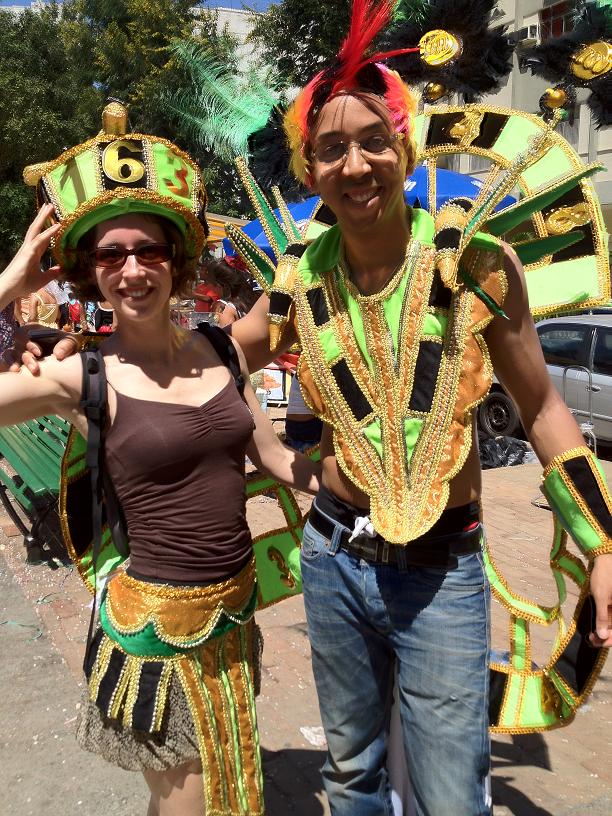 Our carnival costume (come directly from Sambodrome!)
It is in this delirious atmosphere and euphoric that we began to explore the city!
If you go to Rio …
Sebastian's parents joined us then. It is with them that we have the attractions of Rio! We rode on the Sugar Loaf cable car. From there, we had a beautiful view of the city. But that was just the beginning. Then we went on Corcovado Mountain, Christ Redeemer at the foot of which dominates the city. Even though the place is very touristy, it's worth it!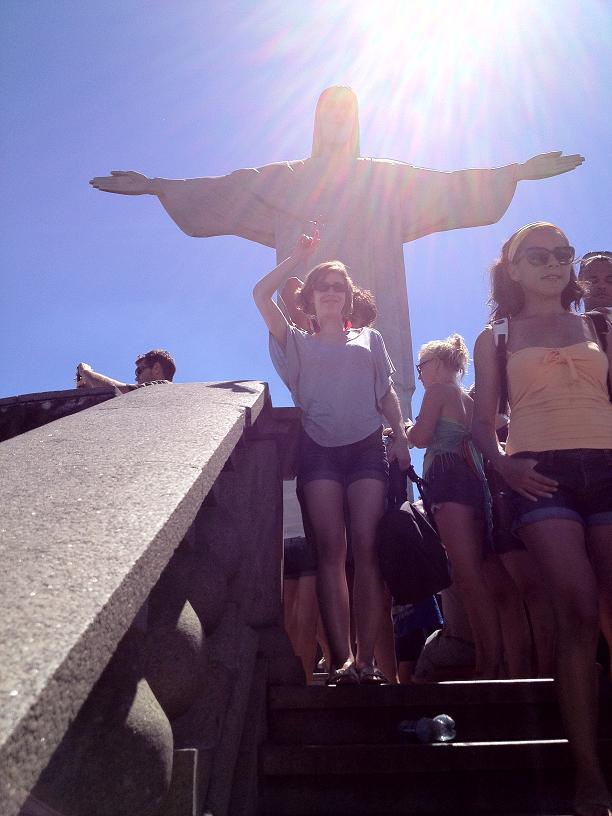 Corcovado Christ the Redeemer in Rio
Among the must, we went to eat in a churrascaria. This is a restaurant where the waiters move from table to table offering grilled meat, different each time. A treat!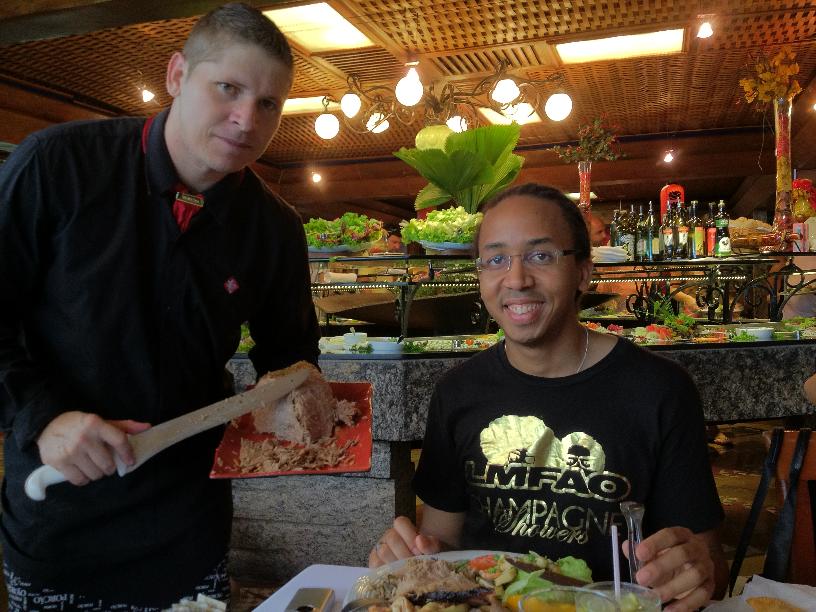 Another specialty discovery is ice acai, a fruit from the Amazon. It is delicious and very refreshing.
With all this heat, we enjoyed a day in the beautiful botanical garden in the city. In the shade of the trees, the temperature was still very high.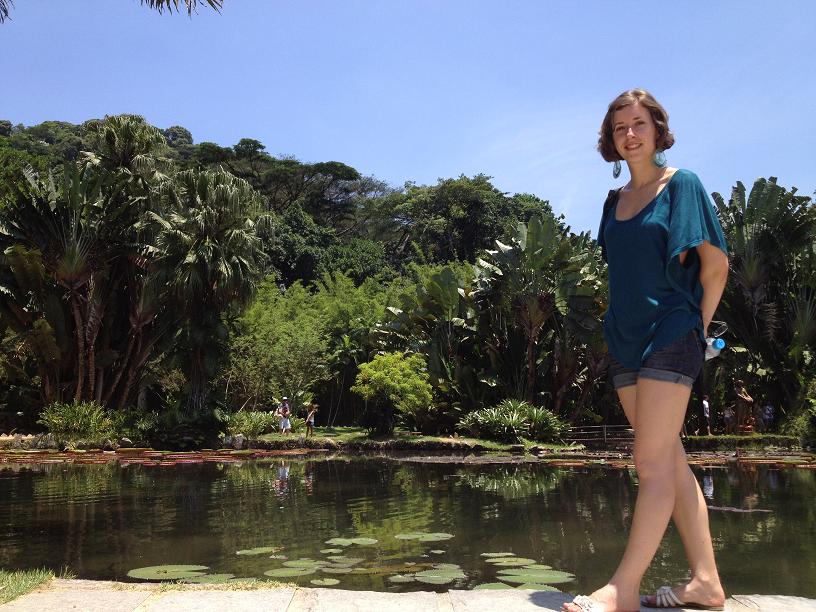 Delighted with their short stay, Sébastien parents are then distributed.
For us, our stay in Rio was nearing its end. But before that, we had a thing to do but not least!
Flight over Rio
Sunday morning, 9 am, Massimo, hang gliding champion , picked us up to take us to the top of the mountains of Rio. The view is breathtaking. Vacuum too! He suggested that we take our picture on the off ramp, right in the middle. And already there, the legs begin to tremble. What's gonna be next? Well, the girls first, it is well known! « They are more courageous. « Says Massimo.
After equipped and trained to run (because in fact it has only run), that Massimo and Cécile firmly attached to gliding. It waits for the right moment and then « Run, Run, Run » and it is a big leap! Not even scared! It's just wonderful to feel fly!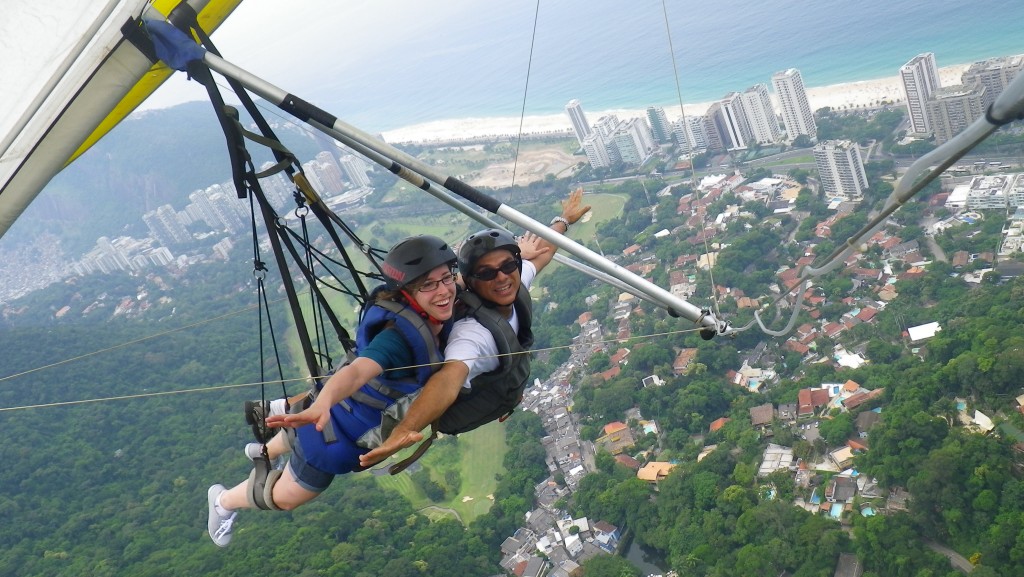 I fly!
Then it was the turn of Sebastian. But this time, our instructor told him he has a leg injury that just woke up. Many times, it is understood that it will give way to another instructor, then it was not. It puts a little spice, is not it? Finally, Sébastien off successfully and even hang gliding pilot.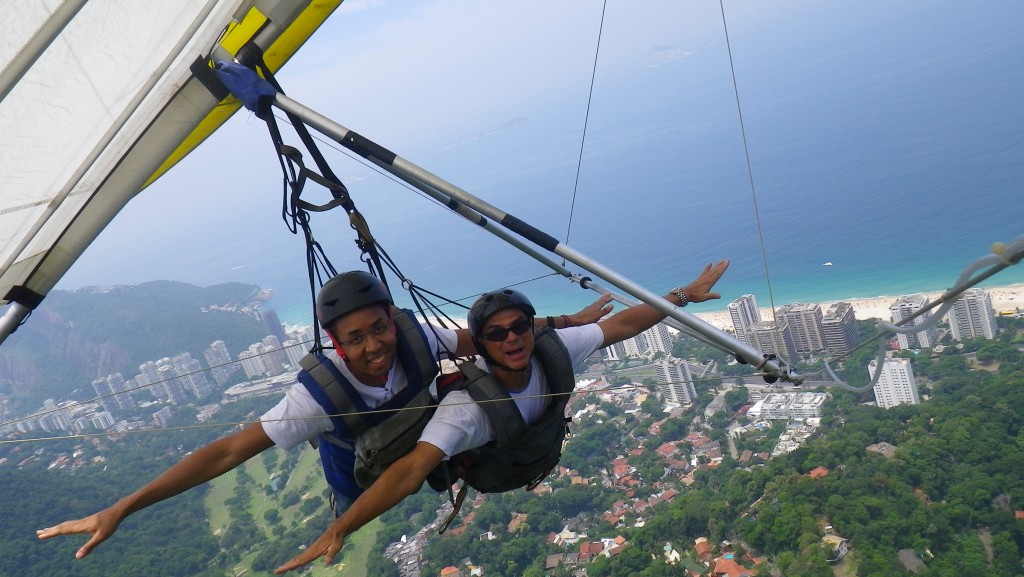 Gliding over Rio: the best way to see the city!
Once on land and in one piece, Massimo offers to drop us off at the foot of Rocinha, the largest favela in Rio. The adventure continues! Or not. We have lunch at the only entrance to the favela. It is not yet crazy enough to venture there alone.
Since the beginning, we are cautious. We always us a false credit card and a few bills out quickly in case of aggression. When we returned in the evening, Sebastian shirtless to put more local (in our neighborhood is a little dress code for men!) And we stopped talking about people not to give us away as tourists. You should know that the population is very mixed so we have a good chance to go to space … so we do not open your mouth!
Our trip to Rio was completed Monday, then we off to the airport to join Navegantes Erico, a friend of Sebastian, who lives in the south of Brazil. Following the adventure – in the next episode!