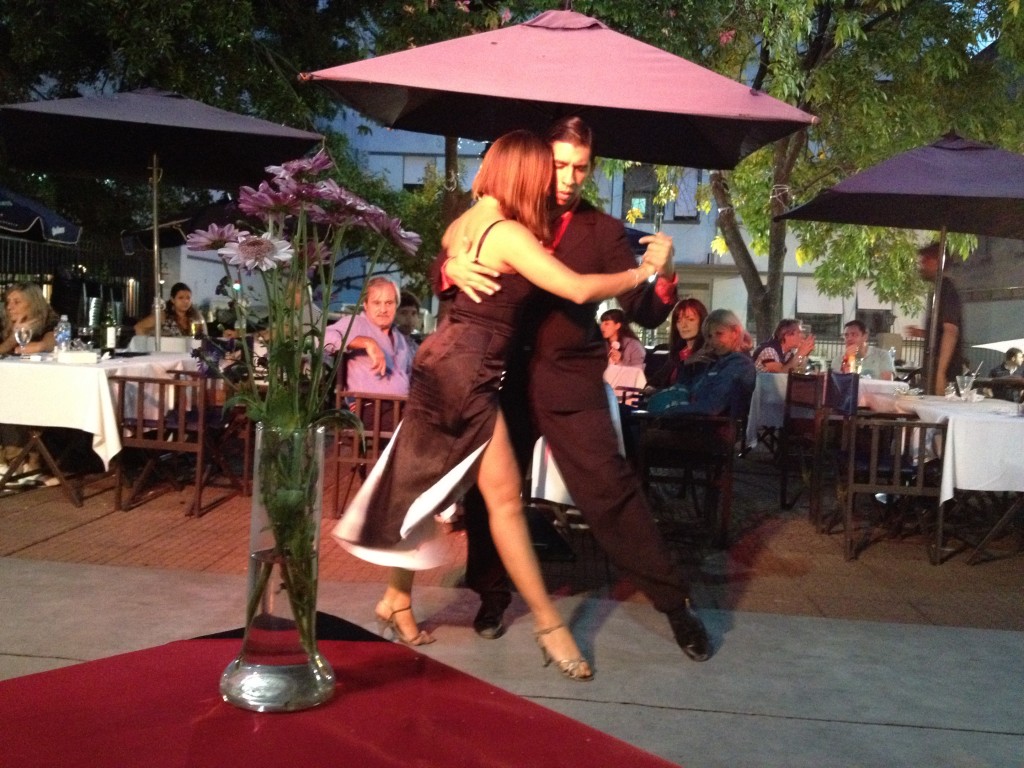 Tango dancers in Plaza Dorrego
A warm human experience
We disembark at dawn in Buenos Aires. This city that evokes the music, dance, singing Argentine accent, will become our « home » for a month.
And the holiday begins at Tristan … which has the same name as me. No, it's not my brother or my cousin and even less a hidden husband! We met through the website Couchsurfing.org. This site allows you to connect travelers from around the world with people who can host for a few days. Tristan, this Franco-Argentine, has answered all of this on our request.
For practical purposes, the English version of this blog is Google Translated. If there's anything weird in the text, it's probably either because of that, or you know, 'cause we are actually a little weird !
Just hours after arriving, we are welcomed with open arms by Tristan. It puts us at ease, shows us around his apartment (a real museum of art!) And leaves us his room. Hospitality warms our heart!
We take advantage of our first days on Argentine soil to rest, looking for an apartment for the next month and start exploring the city.
Recoleta or « Little Paris »
A short walk in the neighborhood where Tristan lives, is the posh and often nicknamed « Little Paris » in reference to his French style Recoleta neighborhood.
Sunday, Plaza Francia, a park in the heart of this neighborhood, is a bustling traditional market. We wandered among the artists are exhibiting their photos and paintings of the city, the people sitting in the grass and drinking maté (local tea), musicians, designers handcrafted jewelry …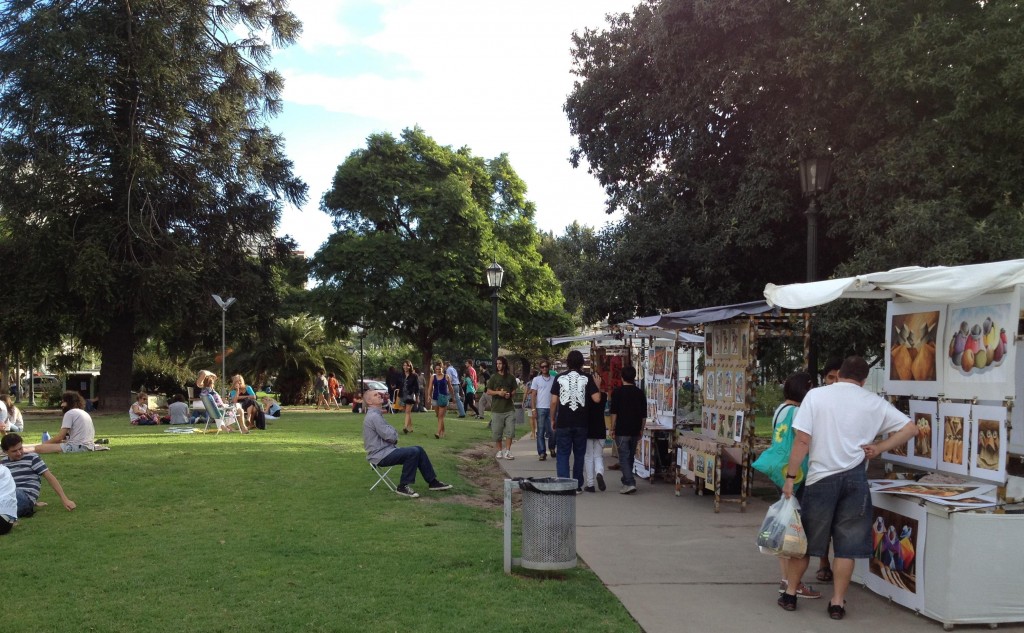 Recoleta, a neighborhood where it is good to walk!
Shortly before leaving on a trip, I had a dinner « Around the World » and discovered the recipe for empanadas. So I could not miss this tasting. These laminated meat or cheese are sold at every street corner.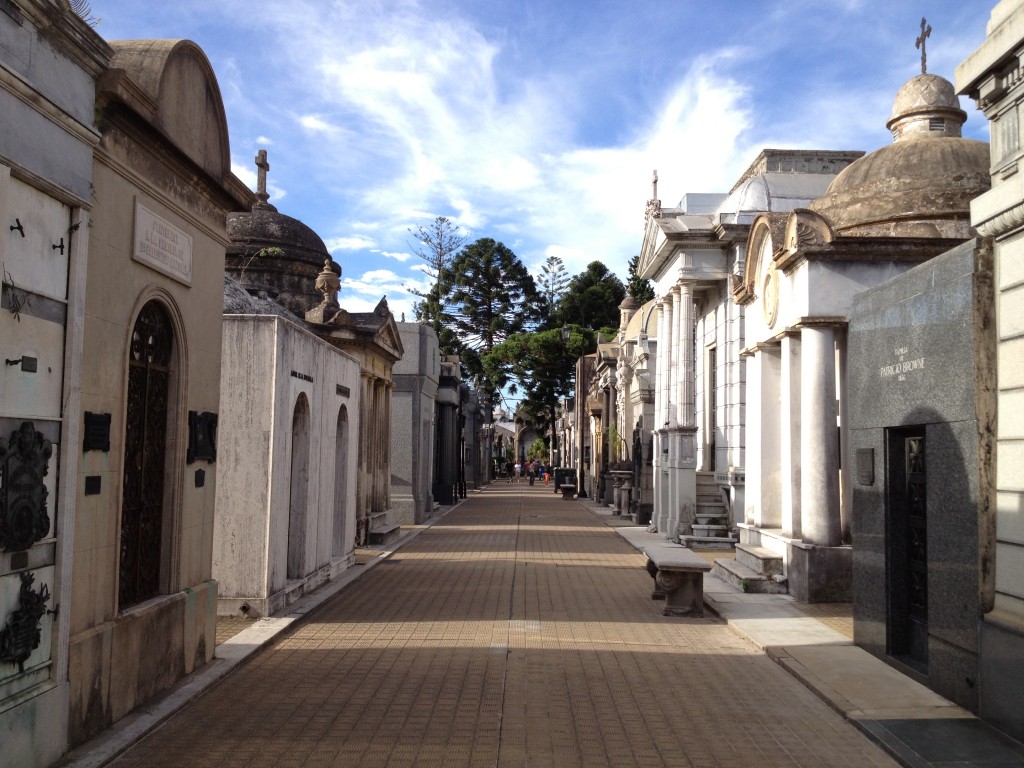 Recoleta Cemetery
What we were most marked, the cemetery! It's like a « mini-city » but … ghost. Some mausoleums are real works of art and others are a little scary, or at least intriguing.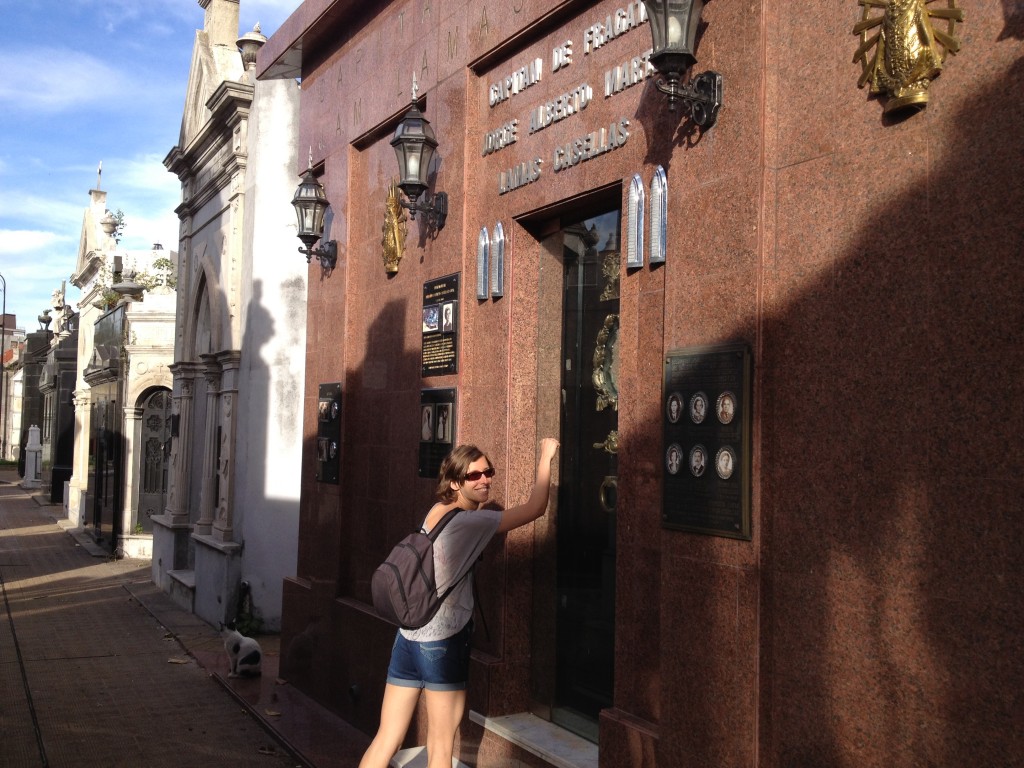 Recoleta Cemetery
Looking for an apartment: a real headache!
Before we arrived in Buenos Aires, we knew we wanted to rent an apartment for the month. What we did not know is that it would take us a lot of time!
Thanks to the internet, we could identify ads returning our criteria: budget, area where you can go dancing and where transportation is convenient, and enough space to practice the tango.
This proved difficult, is to pay the rent. Indeed, the owners want to be paid in cash and in U.S. dollars. But since July, foreigners can withdraw dollars or distributors or exchange pesos against dollars.
Another serious crisis in Argentina?
If I tell you the details of this experience (not very exciting, I grant you) is that it has allowed us to understand the dire economic and social situation that is going through the country.
Why owners want to be paid only in dollars? Well, it is because they know that the peso continues to lose value. An example: since we arrived in Argentina two weeks ago, the peso lost 10% of its value. In other words, if the euro suffered the same problems, a person touching the minimum wage would lose in a month the equivalent of 300 euros of its purchasing power. Result here, there are demonstrations every week.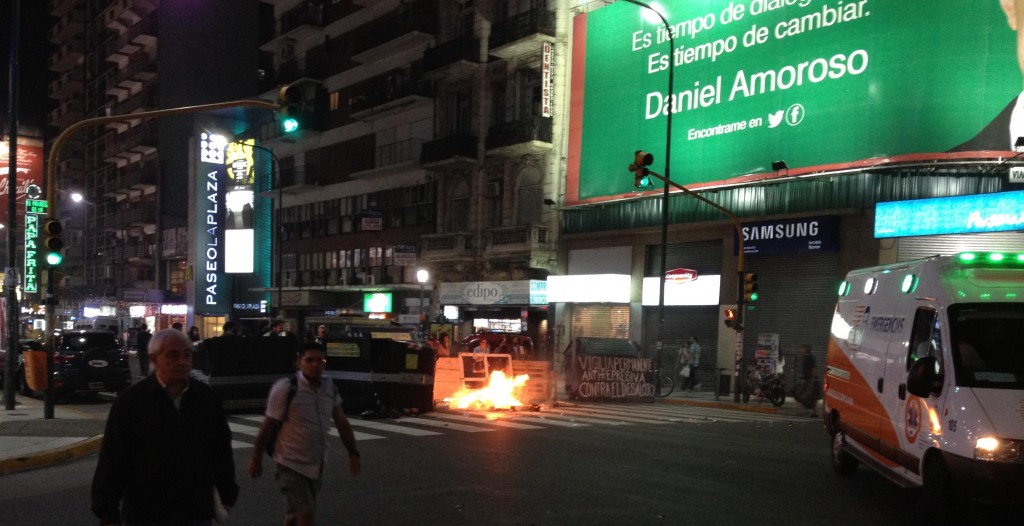 The protesters are not kidding!
The media, they totally avoid the subject … As the government denies the increase in prices, and artificially trying to hide the price increases. This is a problem for local businesses (like the one that manages the subway) because when the government « freezes » the price they find themselves in an untenable financial situation.
Also, what happens in the province is not reported in the media in the capital. In some villages in the province, the political conduct expropriations to redistribute some land at will and force, violently, people to sell their home.
One morning, Sebastian woke up saying, « we need to follow the news to leave on time if it degenerates. « But it is not the media by which we learn! These are the Argentine that we encounter and research tells us that Sebastian everything.
Our little corner of paradise
Back to our journey that will surely make you dream more!
Unable to pay in dollars, had to be otherwise than through agencies. It was discovered the excellent airbnb.fr website. Owners offer you to rent their apartment or just one room at home. This allows you to be in direct contact with the owners and pay online.
For us, the troubles were not quite finished in that time. Our new site registration required steps and time which we would be well spent!
In the end, we are well established and we quickly forgot our troubles, if not the conclusion we will anticipate future bookings.
For us it was a blessing in disguise. What we found is more than a simple apartment living. Indeed, we rent a room in a nice apartment in the district of San Telmo. There is a dance hall and a terrace on the roof where I write!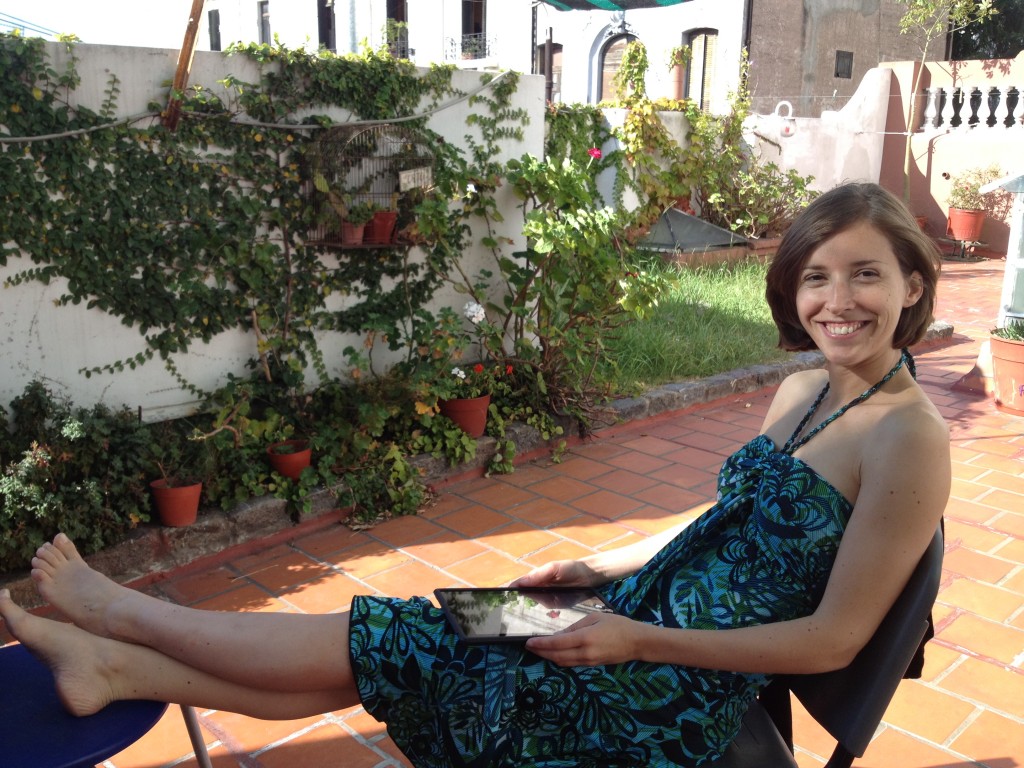 Relaxing and writing on the terrace
But above all, we live with great people! The owner is a professional dancer, currently in Russia, leaving his apartment in the hands of a couple of fifty years. Fidelina just Uruguay and Juan, her husband, Argentina. They have a heart of gold! We also meet the passing travelers.
Zouk lambada, salsa, bachata and finally … Tango!
For our stay in Buenos Aires, we set two objectives: to relax and dance! While we visit from time to time the city but we are not very fond of old stones. What we want is to meet people, vibrate, move, have fun. In a word: dance! So we are given the means!
Our first steps on the track were not tango … but the Zouk Lambada! I was the first surprise. Sebastian, usually a purist Zouk, decided to leave the beaten track. The teacher is a fan of his new pupil, from whence Guadeloupe Zouk! « He comes to inspect us! « Jokes one of the dancers. With music we know by heart, you learn to dance in a very different way.
It is very pleasant. The appointment is made: every Tuesday, we'll wiggle at Azucar Cafe!
At the same place, they organize salsa evenings. What a nice surprise! It's been a while since we did not perform, then it is in their heart's content. On Friday night, it will be salsa! On top of that, Tristan and his girlfriend joined us, not without some hesitation, but for our pleasure!
And tango in? Without apartment, impossible to start. Indeed, we have chosen the very chic option of tuition. Yes, it is fun! So just installed in the apartment, we had an appointment in the ballroom with two teachers. And what teachers! Frank and Jenny were 5th in the World Championship of Tango in 2010. They are great! Teachers, rigorous, smiling, joyful, patient! Since then, every day, we have an appointment with them for an hour of training.
Next time, we hope to show you a video of us!
Argentine Cuisine
All this makes you hungry! Vamos a comer!
Every day we eat Argentine beef and do not get tired. Paleta, Bife de Lomo Bife Chorizo ​​… different pieces Attempts at our butcher opposite. It has not sought their French translation, it could lose its charm. Here they are very fond of grilled « asados » you can enjoy in a parilla.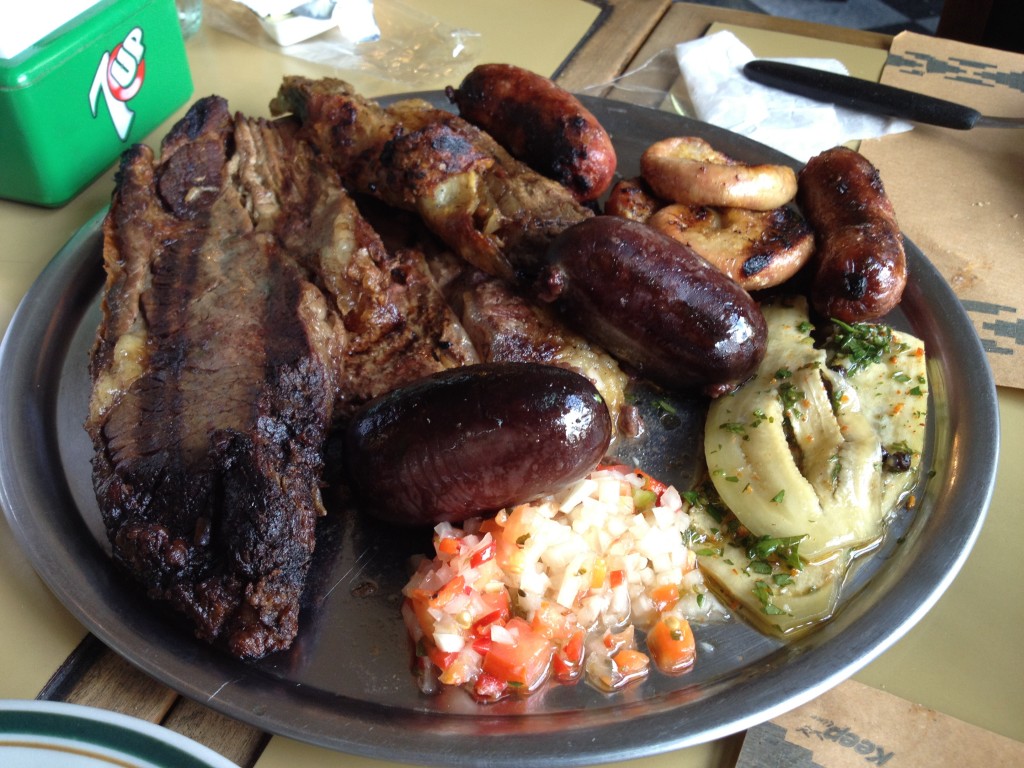 Our first parillada (grilled)
Sebastian was tempted by the wine with its parillada … Surprise! It was necessary to add ice and sparkling water. It was hard to believe the waitress. Sacrilege! some would say.
And here's how the wine is drunk in Argentina!
With Fidelina, I cooked the « Torta de Acelga » chard pie. This is a new recipe I'll keep it safe.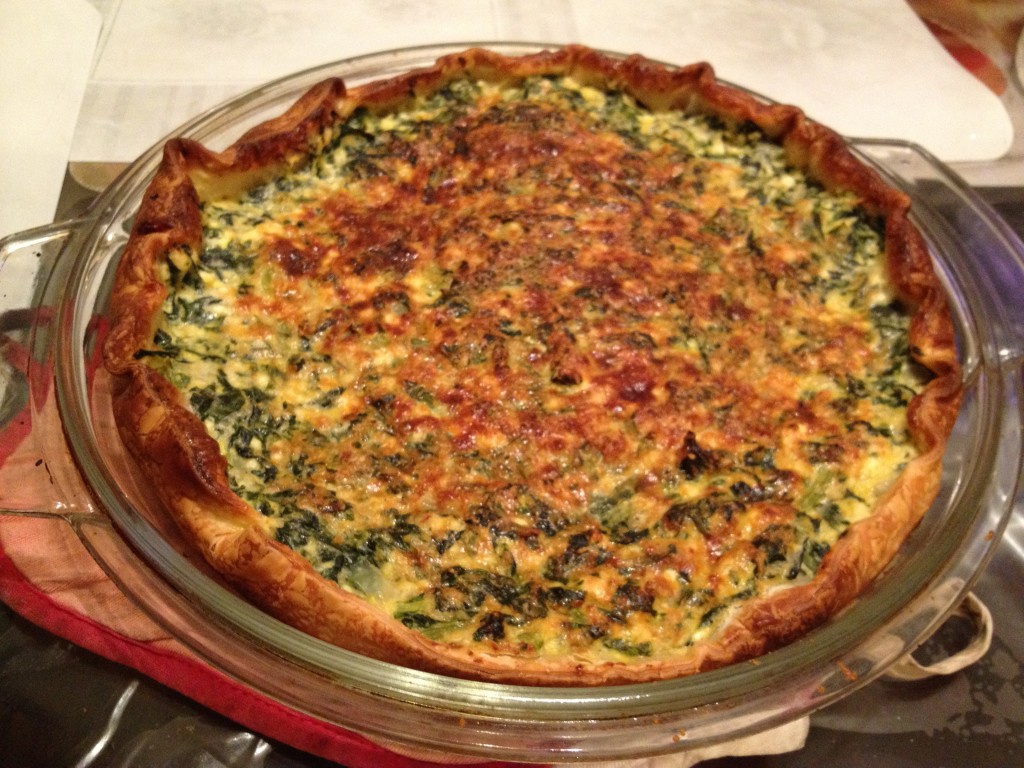 Torta acelga by Fidelina
Juan, a former pizza chef, Sébastien and we have three beautiful cooked pizzas: the campecina the salsera and vegetariana.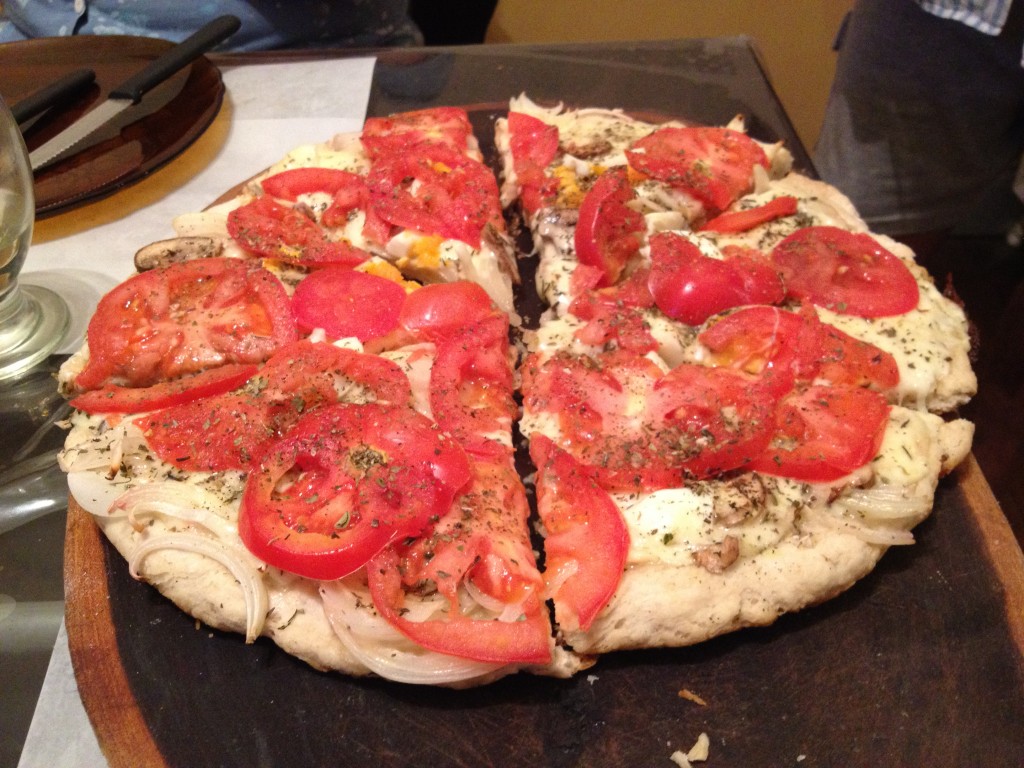 The creation of Sebastian, the new pizza chef!
Another discovery: the alfajores. During a walk in our neighborhood, Jen, our Canadian roommate, we did discover these little pastries: two cookies stuck with ducle de leche, jam local milk. It eats endless!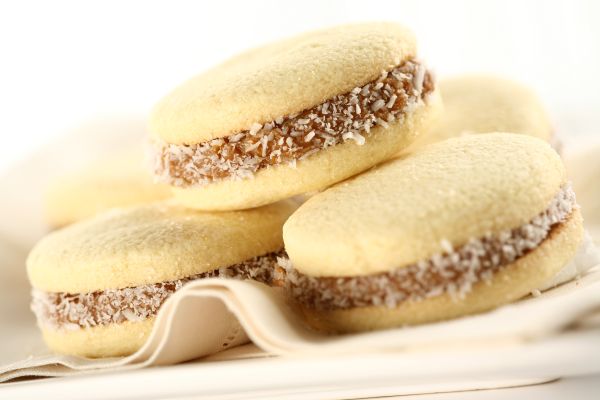 Alfajores – Photo credit
Next article: « Buenos Aires, part II ! »
I'll tell you about our adventures in tandem in the city, our evenings in the milongas and life in the apartment!